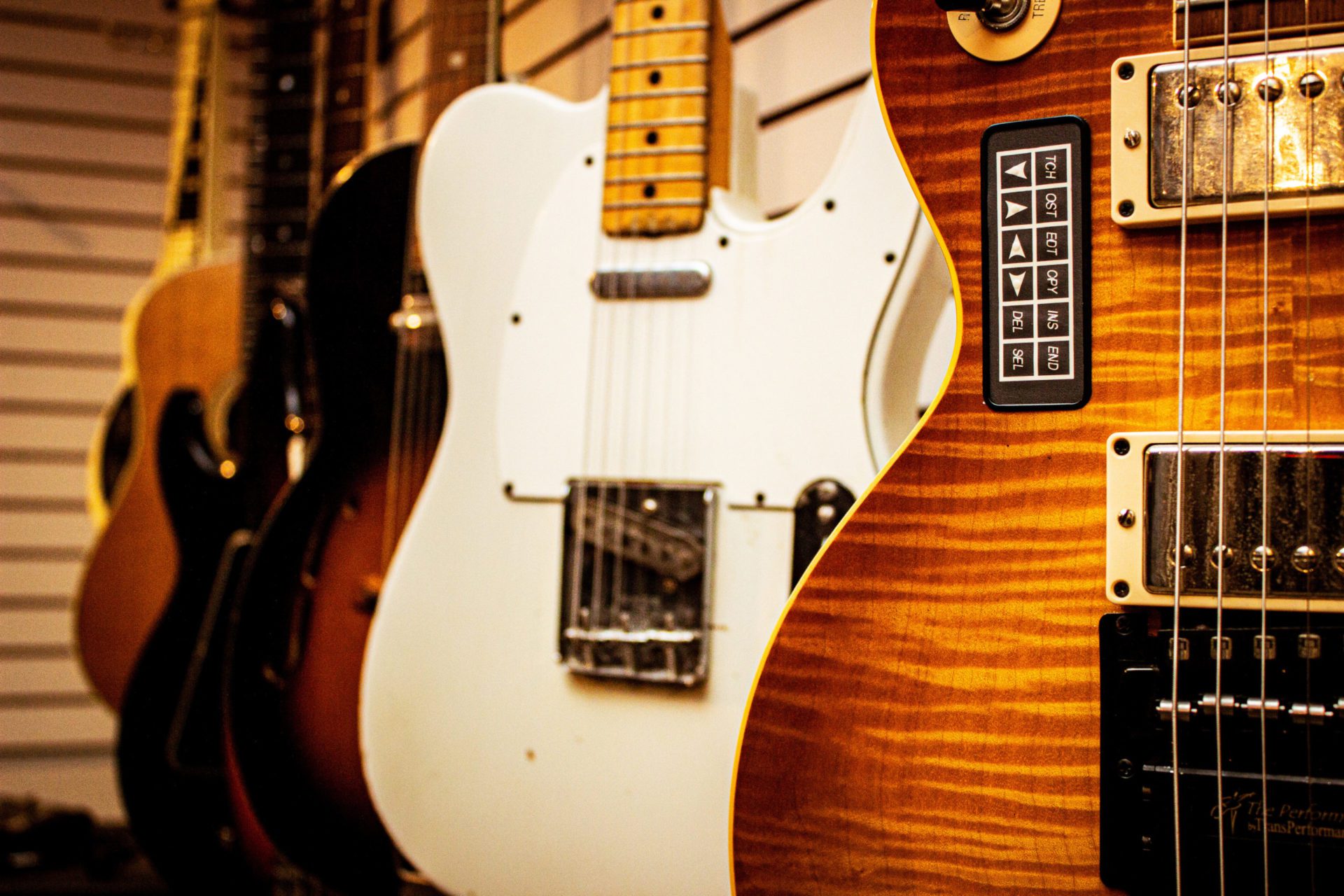 Equipped with the latest Professional Standard Gear.
We pride ourselves on working with the very best equipment. Excellent selection of brand new, state-of-the-art technology and vintage classics. If there's something specific you don't see, give us a call — we'll do our best to get it for your session.
In order to get great guitar tones, you've gotta have a great amp to play through! We have a large selection available to help find that perfect tone. These amps are checked for maintenance on a regular basis and are ready to record at a moment's notice.
Ampeg 4×10
Ampeg B-15
Ampeg SVT 4 Pro
Ampex B20
Egnater Tweaker
Fender Bassman
Fender Blues Junior
Fender Deluxe
Fender Twin
Fender Vibrolux
Gibson GA-20
Marshall 4×12
Matchless Chieftain
Marshall JCM 800
Sears Silvertone
Univox Cab
Vox AC-30
When making a record, we like to have access to a few extra guitars for a wide selection of tones. We keep our guitars in studio shape; ready to record at any time. They are setup and restrung on a regular basis.
EMCI Pedal Steel

Fender Custom Shop Stratocaster

Fender Jazz Bass

1976 Fender Telecaster

2001 Gibson Les Paul Studio

Gibson 'The Ripper' Bass

'The Gibson' Tenor Banjo

Gretsch Chet Atkins Tennessean

1957 Kay Speed Demon

Martin Acoustic

National Lap Steel
4 Piece DW Kit  – Birch
5 Piece Tama Artstar II  – Birds Eye Maple

8″x14″ Custom Birch Snare

7″x14″ Pearl Brass Snare

6.5″x14″ Custom Cherry Snare

7″x10″ Custom Popcorn Snare
Cymbals by Paiste, Zildjian, Sabian and Meinl
African Hand Drums
LP Bongos
Congas
Cowbells
Glockenspiel
Gueros
Maracas
Rainsticks
Shakers
Tambourines
Toca Timbales
Windchimes
Woodblocks
We've spent years searching for the perfect piano for our studio.  We chose our Yamaha C7 for the tone that comes from its legendary soundboard. Yamaha selects only the finest 10% of quarter-sawn solid spruce for their C7's. Its playability and incomparable tone are why the C7 is the most recorded piano in the world. You've heard it on many of your favorite records, now it's time to hear it on yours.
(2) Fender Rhodes
1957 Hammond B3 with Leslie – all original
Hohner Clavinet E7
Korg Triton Pro
MicroKorg
Prophet 600
Oberhiem Electric Piano
Wurlitzer Electric Piano
Yamaha C7 Grand Piano
We love microphones! We have a large variety to choose from; Ribbons, Condensers, Tubes, Dynamics. All are here to help capture the best sound possible at all times.
AEA R84 (RIbbon)
Audio Technica 4033 x2
Audio Technica 4040
AKG C1000 x3
AKG 414 x2
Astatic 77a
Earthworks TC30K x2
Neumann U87 x2
Neumann KM 184 x2
Neumann TLM 67 x2
Neumann M147 (Tube)
Neumann KMS 105 x4
Rode NT-1A x5
Royer R-122 x2 (Ribbon)
Royer R-121 (Ribbon)
Sennheiser 441
Sennheiser MD421 x4
Sennheiser e904 x4
Shure Beta 98 x3
Shure Beta 52a x2
Shure SM57 x9
Shure SM7 x 2
Sony C-800G (Tube)
Soundelux Elux 251 (Tube)
Soundelux iFet 7
Hardware | Outboard Gear | Rack Gear
Studio A
Pre Amps:
4 Ampex 351 Tube Pre's
2 Audio Media Research VMP-2 (MOD)
1 Avalon 737SP
1 Benchmark Pre 420
1 Focusrite ISA 430 Producer Pack
1 Summit TPA 200B
1 Universal Audio 2610
2 Neve 1073
2 Aphex 1788A
EQ/Compressors:
2 API 550B
1 Audio Arts 3100
1 Crane Song STC-8
1 DBX 160A
1 DBX 162
1 DBX 120
2 Empirical Labs EL8x Distressors
1 Manley Vari-Mu
1 Manley Massive Passive
1 SSL G Series Buss Compressor
2 Teletronix LA-2A
1 TubeTech SMBC
2 Universal Audio 1176AE
Studio B
Pre Amps:
4 Ampex 351 Tube Pre's
2 Aphex 1788A
1 Avalon 737SP
1 Benchmark MIA 4×4
1 Focusrite ISA 430 Producer pack
1 Neve 1073
1 TL Audio 2051 Monovalve
1 Universal Audio 6176
EQ/Compressors:
1 Audio Arts 3100
1 DBX 160A
1 GML 8900 
1 Manley Vari-Mu
1 Summit TPA 200B
Converters
 8 ADC Pro Patchbays
1 Alesis Format converter
3 Benchmark DAC
4 Benchmark Media Systems ADC-104 converters (16 Channels)
2 Digidesign 96k interface
2 Digidesign 192k interface
1 Dual Symantrix AD
1 8.8 Optical2 Z-Zys 8.8
1 Z-Zys 16.16 Pro
 Headphone Distribution:
2 Furman HDS-16
10 Furman HRM-16
Daw's
ProTools 12 HDX x2
Protools 11
Reason 6
Logic 9
Plugins
API 550A and 550 B EQ'sAuto-Tune 8.1
Bomb Factory Classic Compressors
Joe Meek Bundle
Moogerfooger Bundle
Pultec EQP-1A HD
Pultec MEQ 5 HD
Eleven
Focusrite d2/d3
iZotope RX2 and RX4
Maxim
Melodyne 4
Melodyne Editor 2
Pitch 'n Time Pro 2
Reverb One
Revibe
Sans Amp PSA -1
Slate Trigger
Sound Toys 5 Bundle
Waves SSL Bundle
Tel-Ray Variable Delay
TL Drum Rehab
Reverb One
Revibe
RVerb
Massey Bundle
Start your next project with us!
SubCat Studios is here to help you achieve excellence through our world-class studios and our expert staff and partnerships. Whether it's your hundredth time or your first time in the studio, SubCat is here to help.